---
Kreidler Press pre-Mosaik 2014
---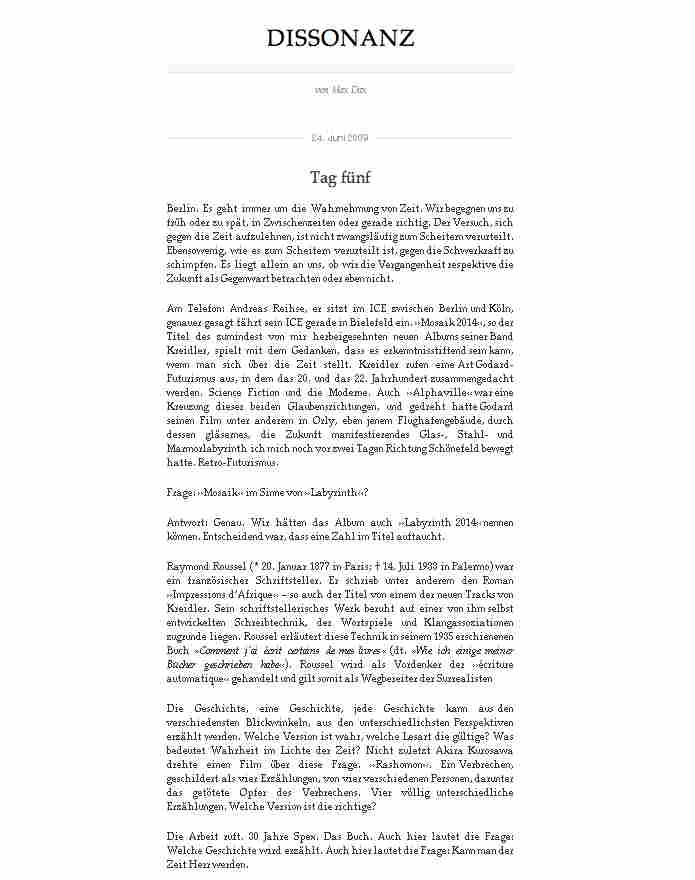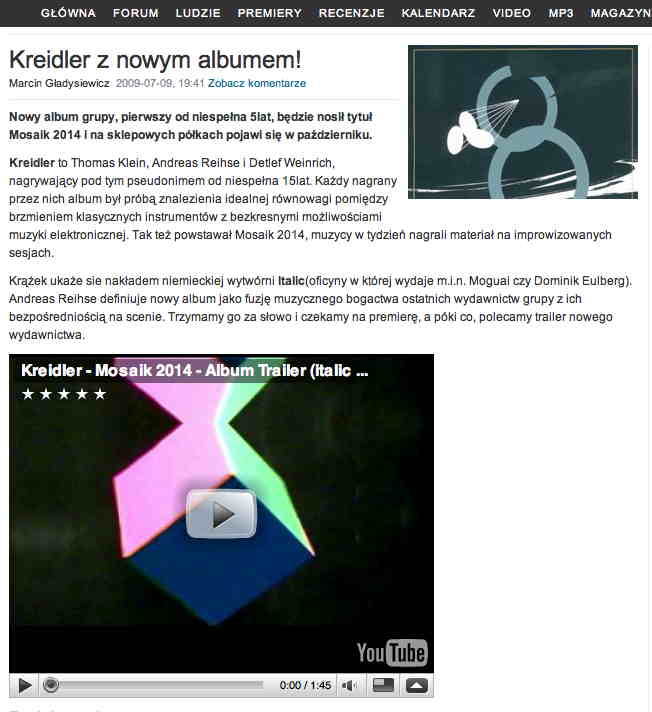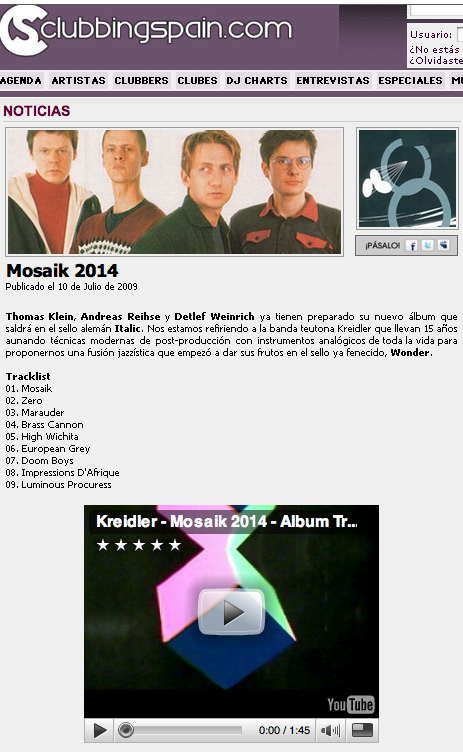 Dissonanz Resident Advisor Nowamuzyka Clubbing Pain
---
Dissonanz, Tag fünf
---
24. Juni 2009

(..) Am Telefon: Andreas Reihse, er sitzt im ICE zwischen Berlin und Köln, genauer gesagt fährt sein ICE gerade in Bielefeld ein. "Mosaik 2014", so der Titel des zumindest von mir herbeigesehnten neuen Albums seiner Band Kreidler, spielt mit dem Gedanken, dass es erkenntnisstiftend sein kann, wenn man sich über die Zeit stellt. Kreidler rufen eine Art Godard-Futurismus aus, in dem das 20. und das 22. Jahrhundert zusammengedacht werden. Science Fiction und die Moderne. Auch "Alphaville" war eine Kreuzung dieser beiden Glaubensrichtungen, und gedreht hatte Godard seinen Film unter anderem in Orly, eben jenem Flughafengebäude, durch dessen gläsernes, die Zukunft manifestierendes Glas-, Stahl- und Marmorlabyrinth ich mich noch vor zwei Tagen Richtung Schönefeld bewegt hatte. Retro-Futurismus.

Frage: "Mosaik" im Sinne von "Labyrinth"?

Antwort: Genau. Wir hätten das Album auch "Labyrinth 2014" nennen können. Entscheidend war, dass eine Zahl im Titel auftaucht. (..)

Max Dax, Dissonanz
---
Kreidler prep Mosaik 2014
---
Published / Wednesday, 08 July 2009 05:30 PM
Words / Resident Advisor
Category / Music News
Kreidler are set to release their eighth full-length, entitled Mosaik 2014, later this year.
The group, who are comprised of Thomas Klein, Andreas Reihse and Detlef Weinrich, have been releasing their own brand of electronic fusion for 15 years now, marrying live instrumentation with effects and modern post-production techniques to create their jazzy futurist sound. After releasing their previous albums on Hamburg's now defunct Wonder imprint, they were picked up by Italic's Marc Knauer, who previously released one of their seven-inch releases back in 1995.
Knauer has said that his "secret wish was that the new Kreidler album would merge the harmonic richness of the Eve Future albums with the directness of Kreidler live onstage," and it does indeed represent Kreidler's live performances much more, mostly due to the fact that most of the album was recorded in a week of live sessions. According to Knauer, listeners can expect the record to emit "longing, solace, fulfillment. In other words, big emotions."
Below is a video trailer produced to showcase the album, and we've also had a quick chat with the band to ask what we can expect from the record, and what exactly they've been up to in the five years since the last Kreidler full-length.
It's been five years since your last album on Wonder. What have you been up to in the meantime?

We produced the soundtrack for the movie Durchfahrtsland, and we worked on solo projects: Thomas as Solyst, Andreas as April and BadFrench (with Kiki Moorse/Chicks On Speed), Detlef as Tolouse Low Trax and he is running a club in Düsseldorf called Salon des Amateurs, where he is responsible for the musical/artistic program. Also we've been DJing a lot.

What can listeners expect from Mosaik 2014?

Sequences, rhythms, percussion, melodies and a massive groove.

How did the hook up with Italic come about?

We've known Marc Knauer since the beginning of Kreidler. He released our 7-inch called Kookaï in 1995, and in 1997 the Re-Sport EP on his Stewardess imprint, which later became Italic. Good old Düsseldorf connections and friendship.

Is there much live instrumentation on the new record?

Synths, sampler, FX, bass, percussion and drums - all recorded live, then mixed in the computer.

What music have you guys been listening to lately, and has that influenced the new material?

Many different genres, like always. Maybe a bit focused on a special kind of club music - not like the usual or mainstream idea of the dance floor as an instrument of exclusion and expulsion, but as a come-together. From selected independent stuff – let's say danceable or dandy – to ethnic African music, from German styles of the '70s and '80s to European disco.
Tracklist
01. Mosaik
02. Zero
03. Marauder
04. Brass Cannon
05. High Wichita
06. European Grey
07. Doom Boys
08. Impressions D'Afrique
09. Luminous Procuress

Italic will release Kreidler's Mosaik 2014 in October. Label: Italic
Upcoming dates: Aug 16 c/o Pop Closing Night - Italic Night Sep 17 Kreidler - Jeremy Jay at Prater Sep 26 Reeperbahnfestival at Uebel & Gefährlich Oct 17 Kreidler at Le Petite Faucheau, Tours
NN, Resident Advisor
---
Kreidler z nowym albumem!
---
2009-07-09, 19:41

Nowy album grupy, pierwszy od niespełna 5lat, bedzie nosił tytuł Mosaik 2014 i na sklepowych półkach pojawi sie w pazdzierniku.

Kreidler to Thomas Klein, Andreas Reihse i Detlef Weinrich, nagrywajacy pod tym pseudonimem od niespełna 15lat. Kazdy nagrany przez nich album był próba znalezienia idealnej równowagi pomiedzy brzmieniem klasycznych instrumentów z bezkresnymi mozliwosciami muzyki elektronicznej. Tak tez powstawał Mosaik 2014, muzycy w tydzieñ nagrali materiał na improwizowanych sesjach.

Krazek ukaze sie nakładem niemieckiej wytwórni Italic (oficyny w której wydaje m.i.n. Moguai czy Dominik Eulberg). Andreas Reihse definiuje nowy album jako fuzje muzycznego bogactwa ostatnich wydawnictw grupy z ich bezposrednioscia na scenie. Trzymamy go za słowo i czekamy na premiere, a póki co, polecamy trailer nowego wydawnictwa.

Marcin Gładysiewicz, Nowa Muzyka (Pl)
---
Mosaik 2014
---
Publicado el 10 de Julio de 2009

Thomas Klein, Andreas Reihse y Detlef Weinrich ya tienen preparado su nuevo álbum que saldrá en el sello alemán Italic.

Nos estamos refiriendo a la banda teutona Kreidler que llevan 15 años aunando técnicas modernas de post-producción con instrumentos analógicos de toda la vida para proponernos una fusión jazzística que empezó a dar sus frutos en el sello ya fenecido, Wonder.
---
Beatfactor, Romania Musi Chat, Romania Raveline, Deutschlands
---
Trio-ul Kreidler lanseaza un nou album
---
09 Iulie 2009 BeatFactor

Cei trei artisti ai trupei Kreidler, Thomas Klein, Andreas Reihse si Detlef Weinrich, sunt gata sa scoata pe piata cel de-al optulea album din cariera lor muzicala. Mosaik 2014 consta intr-o sesiune de inregistrari live pe care trupa le-a facut intr-o saptamana. Daca vreti post-modernism in muzica, de la live pana la efecte IDM, aici e locul potrivit.

"Sequence-ere, ritmuri, percutii, linii melodice si un groove masiv" - cam asta puteti gasi pe noul album, spun cei de la Kreidler in cadrul unui mini-interviu acordat Resident Advisor; cu alte cuvinte, emotii.

Pentru acest nou material, Kreidler s-au aliat cu label-ul Italic, urmand ca materialul sa iasa pe piata acolo in luna septembrie. (..)

NN, Beatfactor (Ro)
---
Kreidler pregatesc Mosaik 2014
---
Adaugat pe 10 iulie 2009

Spre sfarsitul acestui an Kreidler vor lansa al optulea album, intitulat Mosaik 2014. Interesant, noi suntem in 2oo9 din cate tin eu minte, poate ma insel, poate respectivii sunt putin "in viitor", sau poate, la asta nu m-am gandit, numele albumului nu are nici o legatura cu anul in care il lanseaza... da, asta cred ca este raspunsul. Sa revenim la oile noastre, pardon, muzicieni. Grupul, care este compus din Thomas Klein, Andreas Reihse si Detlef Weinrich au tot lansat la albumuri de 15 ani incoace, combinand instrumentala live cu tehnici de post-productie moderne creand genul lor futuristic. Celelalte albume au fost publicate sub aripa fostei case Wonder, dar acum au fost culesi de Mark Knauer de la Italic, care a mai publicat in 1995 pentru ei. Din ce spune Kreidler ascultatorii noului album se pot astepta la o stare de implinire sufleteasca si inca niste chestii sentimentaliste pe care nu stiu sa le traduc in limba noastra materna (haideti sa dam vina pe sistemul de invatamant).

NN, MusiChat (Ro)
---
Kreidler -"Mosaik 2014" im Oktober 2009
---
News, 16.07.2009

"Mosaik 2014" ist der Titel des neuen Albums der Band Kreidler, das am 14. Oktober erscheinen wird. Erwarten können wir "Music which ignores the 21st century. Music that simply glides from the 20th to the 22nd century. Music in the here and now. And for tomorrow" Das Werk ist gleichzeitig das erste Kreidler Release nach ihrem letzten Album "Eve Future Recall" aus 2004. Erscheinen wird das ganze übrigens auf ITALIC.

NN, Raveline (D)
---
... top.